Laser Cut Products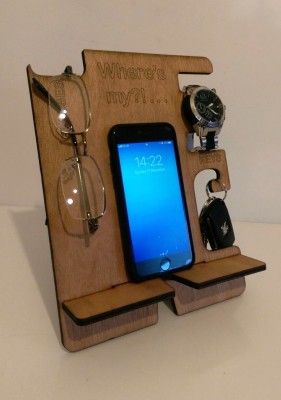 Phone, Keys, Wallet, Watch and Glasses organiser

These laser cut phone charging stations also boast easy organisation for your keys, watch, glasses and a handy ledge at the back for a wallet or purse.

Great for Valentine's, Birthdays, Mother's & Father's day gifts or even  just a non subtle hint to someone to stop leaving their stuff lying around the place!

The front shelf has a recessed centre point to allow easy access charging and is wide and deep enough to accommodate mobile devices and tablets up to 9 inches.

Provided in 2 pieces, simply slot tother and you're good to go.

Dimensions : - Height 25 cm , Depth 18 cm, Width 19 cm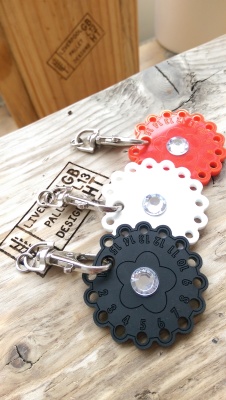 Slimming counter keyrings 

Slimming plans can be easier to stick to with the help of these counter keyrings.

Most slimming plans give nutritional intake guidelines to help you to reduce your weight steadily and safely, most allowing a certain amount of treats per day.

Help keep track of those treats with our slimming counter keyrings!

Simply start the day with the lobster clip in the centre circle and each time you eat or drink something that on your 'treat' list, move the lobster clip over to the next number. Easy!

People who have bought these have found them very useful in tracking their allowances and even helped them to save on their treat allowances.

Dimensions : - 4.5 cm

Supplied with lobster clip keyring.

*Not affilliated with any slimming associations or organisations.



Weight loss journey rewards boards

Reward yourself along the way on your slimming journey with one of our great 'Pound for a lb' boards.

Every time you lose a pound on your slimming plan, pop a pound coin into the snug fitting holes until you reach that 1 stone milestone!
Then go treat yourself with the money you've saved, you've earned it!​

There are three designs to choose from and you can even customise your own message.

Dimensions : -Cupcake design : Height 21cm, Width 15cm
                          -Dress design : Height 21cm, Width 15cm
​                          -Scales design : Height 21cm, Width 15cm  

Click on an image to enlarge